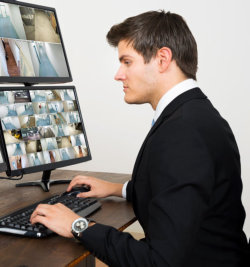 Quality Security Services
We believe in complete customer satisfaction and will not dishonor any client based on the size of the contract, race, or religion. There is no job too big or small for Fields Protective Services to handle.
Keeping you safe round-the-clock!
Our security officers are available 24 hours per day, 7 days per week, and we are on call and equipped to handle last-minute security necessities.
We are an experienced privately owned security business that is licensed, bonded, and insured in the State of New York. In addition, we have affiliates/sister companies in Washington, DC and Miami, Florida with over 30 years of experience. Our New York staff primarily consists of former law enforcement agents, ex-military personnel, and experienced security officers all who will make a phenomenal first impression for our clients' businesses. Our services are tailored to cater to both the private and public sector with no boundaries or limitations within the state of New York.
The foundation of this business is based on professionalism, courtesy, and respect while protecting, securing, and serving our clients. Our guards are fully trained on security policies and procedures and receive regular mandatory company follow-up training. All of the personnel are First-Aid and CPR Certified. We ensure our clients have a piece of mind by dispatching guards that are well-trained to deter, detect, protect, & report incidents when needed. The high visibility and strong presence of our security officers is a clear deterrent for any unwanted activity. Clients can expect supervisory staff to make regular unannounced site visits to inspect each location where our officers are assigned. In addition, our security personnel receives concierge and receptionist training which can be an asset to some companies. Call us today to receive a free no obligation consultation about how Fields Protective Services can help service your security needs.
What Makes Us Different from Other Providers
We have a team consisting of males as well as females. All security officers are CPR & First Aid certified. All staff is well-trained by the former military, prior law enforcement or security personnel with over 20 years prior security experience. Furthermore, we are a Minority Women's Business Enterprise (MWBE) certified agency.
If you would like to find out more about us, please get in touch by calling us at 718-684-4242 or at 347-723-1118.